Used Car Nightmare -- Mossy Toyota


Buyer Beware!!
Did you know
that when you buy a car from a car dealer, you are forced to give up your constitutional rights? Yes, unfortunately, it's true. Car dealers are sneaking one-sided "arbitration clauses" into the fine print of their contracts. The clauses say that even if the dealer violates the law, you can't take them to court. The dealer can take YOU to court, but you can't do the same, to hold them accountable in a court of law, even if they lie, cheat, and steal from you.
Think this is outrageous? Here's what you can do:
Jon Perz has started a new petition on Change.org
You're invited to check it out and send a message letting Mossy Toyota know what you think.
Billboard that went up on July 15th, 2013, near Mossy Toyota's car lot, on Mission Bay Drive
in San Diego, CA: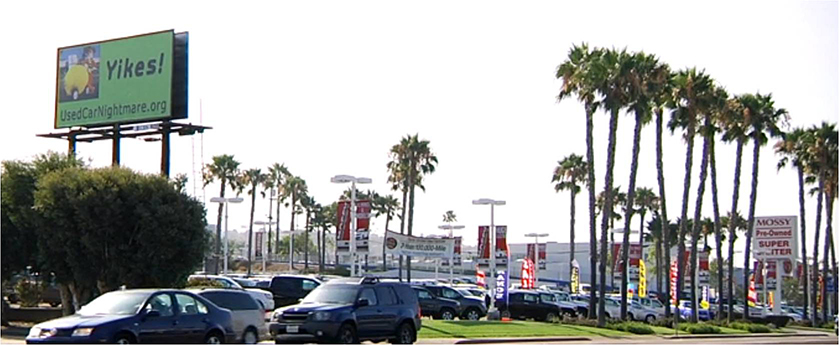 More about Arbitration, and what you can do to get your rights back:
fairarbitrationnow.org
Consumer Reports Magazine (online) report about Jon Perz and his used car nightmare:
Locked out of the courts
Eventually, the American Arbitration Association dumped Mossy Toyota, due to the dealership's failure to pay the required fee to initiate the arbitration process. The AAA also requested that Mossy Toyota cease referring to the AAA in all its future contracts. Meanwhile, Jon has been languishing in "arbitration purgatory" since 2007.
Read the AAA letter to Mossy Toyota:
PDF
When is a lemon NOT a lemon??
Why would Mossy want to take away his customers' ability to use California's consumer protection laws? Maybe it's because he lost another case where the consumers took one of his other dealerships to court.
In 2009, a jury found that Mossy Nissan snookered a San Diego-area couple into buying a lemon car, without telling them it was a "lemon law buyback" -- because the manufacturer bought it back from the first owners, under California's lemon law, due to defects.
According to documents filed with the court, at one point during the trial, the couple's attorney, Hal Rosner, asked the general manager why they advertised lemon law buybacks as "consumer" buy backs, instead of using the legally required term -- "lemon law." The manager blurted out, "NOT A LOT OF PEOPLE ARE GOING TO COME SEE THEM IF WE CALL THEM LEMON LAW BUY BACKS."
The court awarded the couple a full $33,115 refund, plus interest, their attorney's fees, and costs.
Car dealers promised Congress that if dealers were freed from having to submit THEIR disputes with auto manufacturers to arbitration, so they could take the manufacturers to court, they would not oppose allowing consumers to have the same rights. But -- no surprise -- they lied. When Congress introduced a bill to free consumers from forced arbitration, so they would have the same rights as auto dealers, the dealers killed it.
Letter from the National Automobile Dealers Association to Congress:
PDF
More about the legislation the auto dealers killed:
carconsumers.org/HR5312_testimony.htm
Is it any wonder that auto salespersons rank rock bottom in terms of public esteem for various professions?
Here's the latest Gallup poll:
gallup.com
This website brought to you, compliments of
Consumers for Auto Reliability and Safety (CARS)
, Sacramento, CA
Copyright © 2013 Consumers for Auto Reliabilty and Safety